$6.95
AUD
Category: Classic Fiction | Series: Children's Classics | Reading Level: 2-12
'I mean to do something grand. I don't know what, yet; but when I'm grown up I shall find out'Katy Carr is the longest girl that was ever seen. She is all legs and elbows, and angles and joints. She tears her dress every day, hates sewing and doesn't care a button about being called 'good'. Her head is full of schemes and one day she plans to do something important. But a great deal is to happen to Katy before that time comes...BACKSTORY- Learn some splendiferous vocabulary and find out which character you most resemble. ...Show more
$6.95
AUD
Category: Classic Fiction | Series: Children's Classics
What Katy Did at School and What Katy Did Next continue the story of the high-spirited and rebellious American girl, Katy Carr, and her family, who first appeared in What Katy Did. What Katy Did at School is a compelling tale of the intrigues of life at the New England girls' boarding school which Katy attends. Her trials and adventures are all interwoven with a sense of fun and gently ironic good humour. What Katy Did Next describes a tour by Katy of Europe, as she evolves from the child of earlier books into a spirited young woman, and brings to a satisfying close this delightful trilogy. ...Show more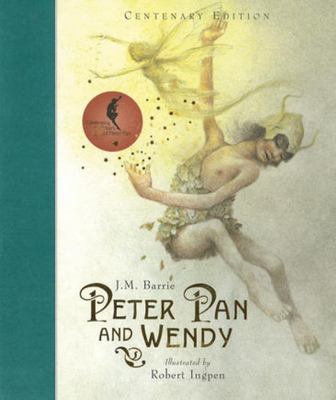 $39.99
AUD
Category: Classic Fiction
J. M. Barrie's Peter Pan is a thrilling adventure for all ages--the story of the boy who refuses to grow up is a tale that never gets old. It follows the Darling children--Wendy, John and Michael--who befriend the magical Peter and are whisked away to Never-Land, where the villainous Captain Hook and th e brave Lost Boys await. Mabel Lucie Attwell's gentle illustrations and distinctive style have been the nursery staple of generations of children. Her illustrated edition of May Byron's abridged Peter Pan and Wendy was first published in 1921. Macmillan is proud to return Mabel Lucie Attwell's interpretation to print. With a beautiful foiled cover, this edition features black-and-white line illustrations. ...Show more
$22.99
AUD
Category: Classic Fiction | Series: Penguin Essentials | Reading Level: near fine
Nobel prize winner and author of One Hundred Years of Solitude Gabriel Garcia Marquez tells a tale of an unrequited love that outlasts all rivals in his masterpiece Love in the Time of Cholera, published as a Penguin Essential for the first time. Fifty-one years, nine months and four days have passed si nce Fermina Daza rebuffed hopeless romantic Florentino Ariza's impassioned advances and married Dr Juvenal Urbino instead. During that half-century, Flornetino has fallen into the arms of many delighted women, but has loved none but Fermina. Having sworn his eternal love to her, he lives for the day when he can court her again. When Fermina's husband is killed trying to retrieve his pet parrot from a mango tree, Florentino seizes his chance to declare his enduring love. But can young love find new life in the twilight of their lives? 'The most important writer of fiction in any language' Bill Clinton 'An exquisite writer, wise, compassionate and extremely funny' Sunday Telegraph 'An amazing celebration of the many kinds of love between men and women' The Times ...Show more
Rebecca
by Daphne du Maurier
$19.99
AUD
Category: Classic Fiction
A PBS Great American Read Top 100 Pick With these words, the reader is ushered into an isolated gray stone mansion on the windswept Cornish coast, as the second Mrs. Maxim de Winter recalls the chilling events that transpired as she began her new life as the young bride of a husband she barely knew. For in every corner of every room were phantoms of a time dead but not forgotten--a past devotedly preserved by the sinister housekeeper, Mrs. Danvers: a suite immaculate and untouched, clothing laid out and ready to be worn, but not by any of the great house's current occupants. With an eerie presentiment of evil tightening her heart, the second Mrs. de Winter walked in the shadow of her mysterious predecessor, determined to uncover the darkest secrets and shattering truths about Maxim's first wife--the late and hauntingly beautiful Rebecca. This special edition of Rebecca includes excerpts from Daphne du Maurier's The Rebecca Notebook and Other Memories, an essay on the real Manderley, du Maurier's original epilogue to the book, and more. ...Show more
$24.99
AUD
Category: Classic Fiction
'My dear, I don't give a damn.' Margaret Mitchell's page-turning, sweeping American epic has been a classic for over eighty years. Beloved and thought by many to be the greatest of the American novels, Gone with the Wind is a story of love, hope and loss set against the tense historical background of t he American Civil War. The lovers at the novel's centre - the selfish, privileged Scarlett O'Hara and rakish Rhett Butler - are magnetic: pulling readers into the tangled narrative of a struggle to survive that cannot be forgotten. WINNER OF NATIONAL BOOK AWARD AND PULITZER PRIZE 'For sheer readability I can think of nothing it must give way before' - The New Yorker 'What makes some people come through catastrophes and others, apparently just as able, strong, and brave, go under?' Margaret Mitchell ...Show more
$35.00
AUD
Category: Classic Fiction | Series: The\Earthsea Quartet Ser.
The fourth book of Earthsea in a beautiful hardback edition. Complete the collection with A Wizard of Earthsea, The Tombs of Atuan and The Furthest Shore. With illustrations from Charles Vess In this fourth novel in the Earthsea series, we rejoin the young priestess the Tenar and powerful wizard Ged. Years before, they had helped each other at a time of darkness and danger. Together, they shared an adventure like no other. Tenar has since embraced the simple pleasures of an ordinary life, while Ged mourns the powers lost to him through no choice of his own. Now the two must join forces again and help another in need-the physically, emotionally scarred child whose own destiny has yet to be revealed.... '[This] trilogy made me look at the world in a new way, imbued everything with a magic that was so much deeper than the magic I'd encountered before then. This was a magic of words, a magic of true speaking' Neil Gaiman 'Drink this magic up. Drown in it. Dream it' David Mitchell ...Show more
$39.99
AUD
Category: Classic Fiction
This 1816 story is perhaps best known as the basis for Tchaikovsky's popular ballet, but Hoffmann's holiday legend is where the spell begins. Here is the original tale of seven-year-old Marie and her beloved Nutcracker, beset by a dark mystery that surrounds this story within a story. Godpapa Drosselmei er, who once served as the royal court's inventor, recounts to Marie a tale of the trickery of Dame Mouserink, the Queen of Mice. The vengeful queen casts a curse on an innocent princess, forcing Drosselmeier to undertake an arduous quest to break the spell. His mixed success leads to the lasting enmity between the Nutcracker and seven-headed Mouse-King -- Dame Mouserink's son -- a conflict that only Marie can help resolve. One of the world's greatest fantasy writers and a major figure in late German Romanticism, Ernst Theodor Amadeus Hoffmann (1776-1822) created extraordinary works of poetry and supernatural fiction. In tales like The Nutcracker, Hoffmann's characters come to vivid life in settings that move from the firm ground of reality to a world of enchantment, mystery, and romance. ...Show more
$14.99
AUD
Category: Classic Fiction | Reading Level: very good
Possessionis an exhilarating novel of wit and romance, at once a literary detective novel and a triumphant love story. It is the tale of a pair of young scholars investigating the lives of two Victorian poets.Following a trail of letters, journals and poems they uncover a web of passion, deceit and trag edy, and their quest becomes a battle against time. ...Show more
$14.99
AUD
Category: Classic Fiction | Series: The\Penguin English Library
Presented in a beautiful slip-case edition that contains new, full-color illustrations for readers aged 8 and up, J. M. Barrie's best-loved tale of Lost Boys, mermaids, pirates, and a boy who will never grow up will enchant even the oldest child at heart. Wendy knows that all children have to grow up.. .all apart from the magical Peter Pan! When Peter flies through the nursery window and invites Wendy and her brothers, John and Michael, to come to Never-Never-Land, they set off on the adventure of a lifetime. ...Show more
$19.99
AUD
Category: Classic Fiction | Reading Level: 10+
Short excerpt: Without doubt she was the worst of the seven probably because she was the cleverest. Her brilliant inventive powers plunged them all into ceaseless scrapes.
$95.00
AUD
Category: Classic Fiction
This sumptuous gift set includes a replica of the very rare first edition of The Hobbit, the only edition where one can now read the original version of the story before Tolkien re-edited it to become the one enjoyed by readers since 1951. The Hobbit was published on 21 September 1937, with a print run of 1,500 copies. With a beautiful cover design, nearly a dozen black & white illustrations and two black & red maps by the author himself, the book proved to be popular and was reprinted shortly afterwards. History was already being made. The scarcity of the first edition has resulted in copies commanding huge prices, way beyond the reach of most Tolkien fans. In addition, subsequent changes to the text - particularly those to chapter 5, when Tolkien decided in 1947 to revise the text to bring it better into accord with events as they were developing in its 'sequel', The Lord of the Rings - mean that the opportunity to read the book in its original form and format has become quite difficult. This special commemorative gift set includes the first edition, so that readers of all ages - not just 'children between the ages of 5 and 9', as Rayner Unwin famously declared in his report on the original submission - can finally enjoy Tolkien's story as it originally appeared. It also includes an exclusive CD of archive recordings that capture Tolkien reading from The Hobbit, a special copy of Thror's map which reveals the secret moon-runes when held to the light, and an accompanying booklet that relates the history of The Hobbit, and includes connected writings by JRR Tolkien. ...Show more