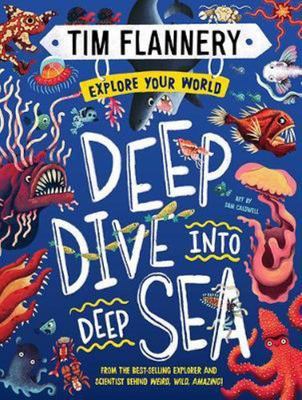 $26.99
AUD
Category: Non-Fiction | Series: Explore Your World
Get ready to dive into the darkest depths of the sea with real-life explorer and scientist, Professor Tim Flannery. You might think you know about the ocean, but the deep sea is nothing like the beach. Things are WEIRD down there.  Who is the giant squid's mortal enemy? Can you see ghosts in the deep se a? Why would a sea cucumber have teeth on its butt? And what on earth is a headless chicken monster? Put on your SCUBA gear - you're about to find out!   From the author of the best-selling Explore Your World: Weird, Wild, Amazing!, this compendium will enthral and enlighten readers with bizarre facts and vibrant illustrations of the most incredible creatures hiding in the deep sea. Prepare to gasp, laugh and squirm in disgust! ...Show more
$29.99
AUD
Category: Non-Fiction
Did you know that feeding seaweed to cows can reduce the methane in their burps and farts by more than half? Or that a forest of kelp absorbs more carbon than a tropical rainforest of the same size? We can even make edible bioplastics from seaweed! Beyond the tideline, there are around 10,000 types of seaweed. An essential ingredient for life on Earth, seaweed has sustained animals and people for many thousands of years. From ancient history and mythology to modern uses in food, health and medicine, discover how seriously cool seaweed is, and how it can even help tackle climate change. Complete with a guide to common seaweeds and foraging guidelines, this charmingly illustrated picture book will educate and inspire, and encourage respect for the natural world. ...Show more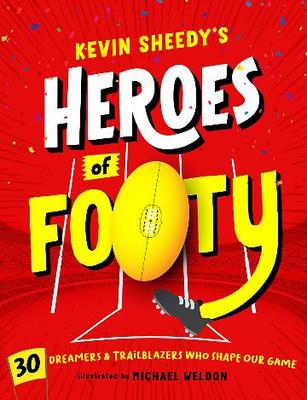 $29.99
AUD
Category: Non-Fiction
  Introducing 30 of the rule-breaking, change-making, boundary-pushing and risk-taking men and women who have shaped footy. Celebrate the players hand-picked by the legendary Kevin Sheedy as some of the greatest trailblazers the game has ever seen. Featuring stats, biographical information and brillia nt illustrations by Michael Weldon, Heroes of Footy is the perfect gift for young footy tragics everywhere.  ...Show more
$19.99
AUD
Category: Non-Fiction
From beautiful butterflies to kaleidoscopic Christmas beetles, First Nations author and illustrator Helen Milroy returns to the backyard with a picture book designed to teach kids (and their handlers) all about the scurrying, scuttling, scooting, buzzing, zooming splendour of insects.
$24.95
AUD
Category: Non-Fiction
A beautifully illustrated story of this marsupial's plight and how it was saved from extinction. The Eastern Barred Bandicoot is one of Australia's most threatened species. When their existence came under extreme threat from habitat loss, predators and human development, Eastern Barred Bandicoots found refuge in the most unlikely of places - a garbage dump. This captivating true story details the plight these small, nocturnal marsupials faced, and the outstanding efforts that ensured their protection. Written by Rohan Cleave and illustrated by Coral Tulloch, Bouncing Back shows that even on the brink of extinction, there is hope for the survival of our most vulnerable species. Rohan Cleave and Coral Tulloch's first book, Phasmid: Saving the Lord Howe Island Stick Insect, won a Whitley Award for Children's Natural History Book and was an Honour Book in the Children's Book Council of Australia Book Awards (Eve Pownall Information Book category). ...Show more
$32.99
AUD
Category: Non-Fiction | Reading Level: Eve Pownall Award
INDIE AWARD WINNER 2020. Marvel as you enter the fascinating hidden world of ugly animals in this encyclopaedia of the animal kingdom's most unusual and beauty-challenged species. It's time for ugly animals to shine! With more than sixty ugly animals to explore, this compendium of the unusual celebrat es the beauty in 'ugliness'. Children and adults alike will pore over the breathtaking scientific illustrations of unusual animals, debating their relative ugliness and merits, learning about science and nature along the way. Featuring illustrations and facts about the thorniest species the animal kingdom has to offer, from the naked mole rat to the goblin shark, aye-aye, sphinx cat, blobfish and many more 'ugly' beauties. This gorgeous hardcover book is illustrated in exquisite detail by exciting new Australian talent, Sami Bayly. ...Show more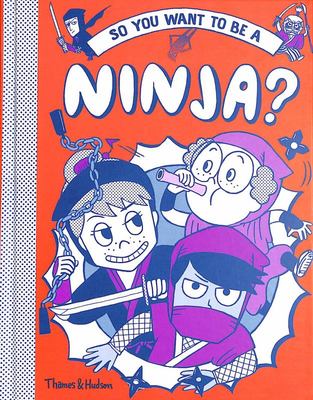 $19.99
AUD
Category: Non-Fiction
In this fantastic new addition to the So You Want to Be a... series Kate, Eddie, and Angus are obsessed with ninjas. After watching endless ninja competitions on YouTube, the plucky adventurers dream of dressing in black and making themselves invisible. With padded shoes to silence their steps and throw ing stars hidden in their pockets, the friends travel back in time to 1789 Japan to discover what it takes to be a ninja. Under the guidance of the grand master, the trio learn the ninjutsu craft from two of Japan's stealthiest ninjas--Hanzo, the bravest ninja of all time, and Chiyo, a kunoichi, or "female," ninja, who is a master of disguise. With the help of these great masters, Kate, Eddie, and Angus learn the most tightly guarded secrets of ninjutsu, including how to throw a ninja star, how to use mind control, and how to break into a castle Full of zany illustrations and inspired by the book Ninja, which is based on an original ninjutsu training manual, So You Want to Be a Ninja? is a highly entertaining and accurate account of ninjutsu that's perfect for any child interested in martial arts or Japanese history. ...Show more
$39.99
AUD
Category: Non-Fiction
Welcome to the Fungarium! Step into the world of fungi and learn all about these strange and fascinating life forms.
$19.99
AUD
Category: Non-Fiction
A simple and reassuring introduction to body changes for boys aged 7 and up. This easy-to-understand, straightforward book gives clear advice for young readers who want to understand more about the changes in their body that happen during puberty. The clear, friendly approach explains everything about puberty, from getting hairy, growing taller and what wet dreams are. There is sensible advice about heathy eating, exercise and keeping clean as well as how to tackle any emotional ups and downs and tips for boosting self-esteem. Questions and answers throughout will help dispel any myths and give gentle advice. ...Show more
$17.99
AUD
Category: Non-Fiction
I could hardly see. There was dust and smoke everywhere. I was falling, sliding down into a gap that had opened up between parts of the collapsed building. It was dark and silent. all I could hear was the sound of my own breathing, and my beating heart thumping in my ears. Then I heard the cry again: th e cry for help. Growing up by the beach in Newcastle in 1989 means footy, sandcastle competitions and school. Michael's dad's a journalist and his small world gets bigger as he starts to pay attention to the news. His interest turns into anxiety and obsession as Michael begins to see the world as a dangerous place that is fast collapsing around him. When the Berlin Wall comes down, most see it as a sign of change and freedom but Michael isn't convinced. But when an earthquake hits his home down, Michael discovers that the worst that can happen is not always as bad as your fears. ...Show more
$12.99
AUD
Category: Non-Fiction
Just because we're LITTLE doesn't mean we can't learn BIG facts. Have you ever wondered how the ANZACs got their name? If you're a Little Historian who wants to learn about the ANZACs, you're about to MARCH INTO THE PAST with Puffin Little!
$32.99
AUD
Category: Non-Fiction | Series: The\Illustrated Encyclop Ser.
Dangerous animals get a bad rap, but this beautifully illustrated encyclopaedia helps us appreciate the incredible features of some of our more hair-raising animal species. With more than sixty of the most deadly and dangerous animals from across the world to explore, every page of this beautifully illu strated volume is more eye-opening than the last. You will learn interesting facts about these fascinating species, (many of which you won't have even known were deadly) such as how they have adapted to survive and whether we should be threatened by these animals or appreciate them for their incredible features. Children and adults alike will pore over the breathtaking scientific illustrations of unusual animals from the Cone Shell to the Wolverine and the Irukandji Jellyfish to the Slow Loris, debating their relative dangerous features, learning about science and nature along the way.  This gorgeous hardcover book is illustrated in exquisite detail by award-winning author and illustrator, Sami Bayly. A brilliant companion to The Illustrated Encyclopaedia of Ugly Animals. ...Show more