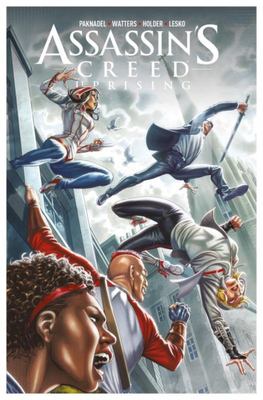 Assassin's Creed Uprising 2
by Dan Watters; Alex Paknadel; Jose Holder (Illustrator)
$24.99
AUD
Category: Children's Graphic Novels | Series: Assassin's Creed Uprising Ser.
The Phoenix project saga begins to unravel in this second thrilling chapter of Assassin's Creed Uprising   Our modern day Assassins take the fight to the heart of the Spanish Civil War in order to secure a valuable artifact that could change the course of history. But when a brand new enemy rears its ugly head, both the Brotherhood and Templar Order are forced to form a shaky alliance.   - The second chapter of Titan's brand new 3-part story arc, which will conclude the Phoenix Project saga - a major AC videogame storyline - A new creative team featuring Assassin's Creed storyboard artist, Jose Holder. - A fresh cast of new and returning characters (including fan favourites Juno, Otso Berg and The Black Cross) along with brand new Assassin Ignacio Cordona. - Assassin's Creed movie released December 2016, with a new game arriving in 2017 ...Show more
$24.99
AUD
Category: Children's Graphic Novels
KidGlovz is a musical genius. His gift is so precious that he's kept under lock and key. But when a young thief helps him escape, Kid must embark on a perilous journey through which he will discover the terrifying nature of his talent, in a spellbinding graphic fable about friendship and freedom. For fa ns of The Invention of Hugo Cabret, this beautifully produced graphic novel is a rich and satisfying read. ...Show more
Naruto (#5)
by Masashi (ART) Masashi; Kishimoto Kishimoto
$14.99
AUD
Category: Children's Graphic Novels | Series: Naruto
Naruto is a ninja-in-training with a need for attention, a knack for mischief, and sealed within him, a strange, formidable power. His antics amuse his instructor Kakashi and irritate his teammates, intense Sasuke and witty Sakura, but Naruto is serious about becoming the greatest ninja in the village o f Konohagakure! In the course of their training, student ninjas Naruto, Sakura and Sasuke have fought deadly assassins, learned incredible feats of magic and martial arts, and danced along the brink of death. Now they're facing the most terrifying challenge of all: exams. The three ninjas-in-training have signed up for the Journeyman Ninja Selection Exams, which they must pass if they ever want to advance to the rank of full-fledged shinobi. They learn too late how grueling and dangerous the exams are. If the tests of skill, stealth, and battle prowess don't kill them, their fellow junior ninja will. And, since the three pass or fail as a group, they're only as strong as their weakest link...Naruto! ...Show more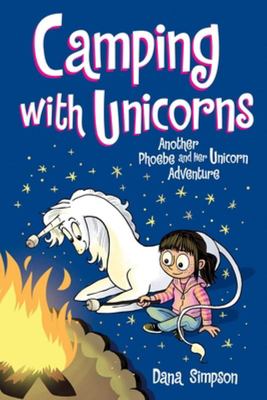 $17.99
AUD
Category: Children's Graphic Novels | Series: Phoebe and Her Unicorn
Life is never boring when your best friend is a unicorn! The latest installment in this bestselling series is full of mischief, magic and adventure -- as well as an important reminder to always stay true to yourself. School's out, so Phoebe and her unicorn best friend, Marigold Heavenly Nostrils, have the entire summer to play games, visit the pool, and even go camping. Unicorn horns are excellent utensils for roasting things over the campfire, too, even if Marigold prefers toasted apples to s'mores. While exploring in the woods, Phoebe and friends meet a unicorn named Alabaster, who uses a special video game console that's powered by plants. Throughout her summer adventures, Phoebe learns that being cool isn't all it's cracked up to be, and that it's much better to be your true self. It's all part of the unforgettable experience of Camping with Unicorns. ...Show more
$19.99
AUD
Category: Children's Graphic Novels | Series: Amulet
Emily and Navin's mother is still in a coma from the arachnopod's poison, and there's only one place to find help: Kanalis, the bustling, beautiful city of waterfalls. But when Em, her brother, and Miskit and the rest of the robotic crew aboard the walking house reach the city, they quickly realize that seeking help is looking for trouble, dangerous trouble. ...Show more
$14.99
AUD
Category: Children's Graphic Novels | Series: The Baby-Sitters Club Graphix
A brand-new graphic novel adapted by USA Today bestselling author Gale Galligan Stacey and Mary Anne are baby-sitting for the Pike family for two weeks at the New Jersey shore. Things are great in Sea City: There's a gorgeous house right on the beach, a boardwalk, plenty of sun and sand... and the cut est boy Stacey has ever seen. Mary Anne thinks that Stacey should leave Scott alone and focus on the Pike kids, but Stacey's in love. Looking for reasons to hang around his lifeguard stand takes up all of her time, which means Mary Anne has to do the job of two baby-sitters. Mary Anne doesn't like it one bit How can she tell Stacey that Scott just isn't interested without ruining their friendship and breaking Stacey's heart? ...Show more
$26.99
AUD
Category: Children's Graphic Novels | Series: Percy Jackson Graphic Novel | Reading Level: 11-13
The gods of Olympus are alive in the 21st Century. They still fall in love with mortals and have children who might become great heroes, but most of these children meet horrible fates at the hands of monsters by the age of twelve. Only a few learn the truth of their identity and make it to Half Blood Hi ll, a Long Island summer camp dedicated to training young demigods. Such is the revelation that launches young Percy Jackson on a quest to help his real father, Poseidon, avert a war among the gods. With the help of Grover the satyr and Annabeth the daughter of Athena, Percy must journey across the United States to catch a thief who has stolen the original weapon of mass destruction - Zeus' master bolt. Along the way, they face a host of mythological enemies determined to stop them. Most of all, Percy must come to terms with a father he has never known, and an Oracle that has warned him of betrayal by a friend. Follow the author on his blog ...Show more
$17.99
AUD
Category: Children's Graphic Novels | Series: Amulet | Reading Level: 9-12
After the death of their father, Emily and Navin move with their mother to their deceased great-grandfather's home. The house proves to be dangerous and leads them into an underground world inhabited by demons, robots, and talking animals.
Drama
by Raina Telgemeier
$16.99
AUD
Category: Children's Graphic Novels | Reading Level: From 10
From Raina Telgemeier, the #1 New York Times bestselling, multiple Eisner Award-winning author of Smile and Sisters Callie loves theater. And while she would totally try out for her middle school's production of Moon over Mississippi, she can't really sing. Instead she's the set designer for the drama department's stage crew, and this year she's determined to create a set worthy of Broadway on a middle-school budget. But how can she, when she doesn't know much about carpentry, ticket sales are down, and the crew members are having trouble working together? Not to mention the onstage AND offstage drama that occurs once the actors are chosen. And when two cute brothers enter the picture, things get even crazier ...Show more
$19.99
AUD
Category: Children's Graphic Novels | Series: Smile
Raina just wants to be a normal sixth-grader. But one night after Girl Scouts she trips and falls, severely injuring her two front teeth. What follows is a long and frustrating journey with on-again, off-again braces, surgery, embarassing headgear and even a retainer with fake teeth attached(!). And on top of that theres still more to deal with: a major earthquake, boy confusion and friends who turn out not so friendly. Rainas story takes us from middle school to high school, where she discovers her artistic voice, finds out what true friendship really means and where she can finally... smile. ...Show more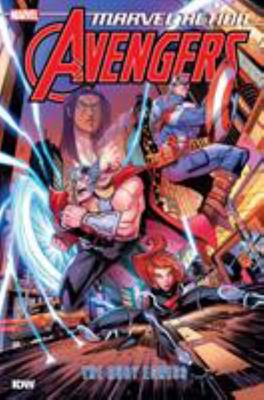 $15.99
AUD
Category: Children's Graphic Novels | Series: Marvel Action: Avengers Ser.
Magic and mayhem collide for more mighty Marvel action in this new adventure featuring Earth's Mightiest Heroes! Thor, Captain Marvel, and Doctor Strange have gone missing! Forced to face fiendish foes without their teammates, can the rest of the Avengers find their friends before it's too late? Collec ts issues #4-6. ...Show more