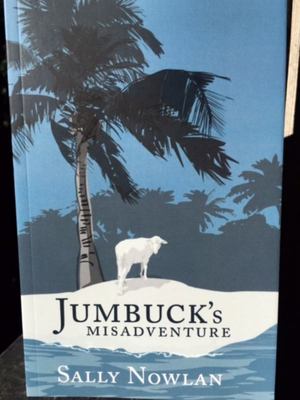 $15.00
AUD
Category: Middle Fiction
A new book for young readers that reveals the reality of live export from a sheep's eye view. Jumbuck is a cheeky pet sheep who finds himself on a live export boat headed to the Middle East! It's a great read ... and has a happy ending!
$16.99
AUD
Category: Middle Fiction | Series: Tom Gates
The brand new bestseller from multi-million copy selling author and illustrator Liz Pichon. A laugh-outloud, fully illustrated collection of stories starring Tom Gates and his friends, family and foes!  
$4.99
AUD
Category: Middle Fiction | Series: Skulduggery Pleasant
Three ancient gods are freed from their prison with only one desire: to destroy the planet and everyone on it. To save us all, Skulduggery Pleasant and Valkyrie Cain must go undercover in a Dublin school. Skulduggery has to blend in with the teaching staff, while Valkyrie has to pass for an ordinary sch oolgirl. Above all else, no matter what happens, they both must act completely and utterly normal. We are so dead.   ...Show more
$4.99
AUD
Category: Middle Fiction | Series: Treehouse | Reading Level: very good
Andy and Terry's 13-storey treehouse is the most amazing treehouse in the world! It's got a bowling alley, a see-through swimming pool, a tank full of man-eating sharks, a giant catapult, a secret underground laboratory and a marshmallow machine that follows you around and shoots marshmallows into your mouth whenever you're hungry.Well, what are you waiting for? Come on up! ...Show more
$19.99
AUD
Category: Middle Fiction | Series: Pages and Co
Third in the modern-classic and bestselling bookwandering series that celebrates all that is best in life: books, adventure, friendship - and cake! Strange things are happening. A man comes into Pages & Co looking for a book... then suddenly can't remember it. Tilly and her family feel like the wor ld is changing - but can't quite put their finger on why. Meanwhile, the Underwoods are expanding their control over bookwandering - and they still have their sights set on Tilly. Leaving the safety of the bookshop, Tilly heads to America to find the legendary Archivists and save bookwandering... ... or at least, that's the plan. Wandering in layers of story, Tilly and her friend Oskar come up against dangers they could never have expected, team up with an unexpectedly familiar face, and ultimately find themselves taking on the biggest threat to stories there has ever been - with only their courage and ingenuity to help them. As well as some of their dearest fictional friends... ...Show more
$16.99
AUD
Category: Middle Fiction
When Clio's town in Bronze Age Crete is threatened by seafaring raiders, she faces the greatest sacrifice of all. Can Clio, her herd of horses and a new young friend find a way to change their destinies? Another wonderfully engaging historical middle fiction adventure from the author of Dragonfly Song a nd Nim's Island.   If she had stayed to load the kiln as she should have, she'd never have seen the ship. Mama said the ship still would have been there, so everything had to happen the way it did. But that's not true. Clio saw it, and the world changed.When a raiders' ship appears off the coast, the goddess demands an unthinkable price to save the town - and Clio's grandmother creates a sacred statue to save Clio's life.But Clio is torn between the demands of guarding the statue and caring for her beloved horses. Disabled in an accident, she must try to put aside her own grief at no longer being able to ride - and in the process, save a friend's life and stop a war.Rippling with emotion and drama, war and resistance, fear and determination, this novel is a brilliant companion to the highly acclaimed Dragonfly Song and Swallow's Dance. ...Show more
$17.99
AUD
Category: Middle Fiction
One extraordinary year will change them all... Sorrento, Victoria, 1999. Fred's family is a mess. Her mother died when she was six and she's been raised by her Pop and adoptive father, Luca, ever since. But now Pop's had to go away, and Luca's girlfriend Anika and her son have moved in. More and more it feels like a land-grab for family and Fred is the one being left off the map. Even as things feel like they're spinning out of control for Fred, a crisis from the other side of the world comes crashing in. When a group of Kosovar-Albanian refugees are brought to a government 'safe haven' not far from Sorrento, their fate becomes intertwined with the lives of Fred and her family in ways that no one could have expected. ...Show more
$14.99
AUD
Category: Middle Fiction
In The Deep End, book 15 of the Diary of a Wimpy Kid series from #1 international bestselling author Jeff Kinney, Greg Heffley and his family hit the road for a cross-country camping trip, ready for the adventure of a lifetime. But things take an unexpected turn, and they find themselves stranded at an RV park that's not exactly a summertime paradise. When the skies open up and the water starts to rise, the Heffleys wonder if they can save their vacation-or if they're already in too deep. And don't miss Rowley Jefferson's Awesome Friendly Adventure, an all-new fantasy from Greg's best friend-the follow-up to the instant #1 bestseller Diary of an Awesome Friendly Kid- Rowley Jefferson's Journal.   ...Show more
$15.99
AUD
Category: Middle Fiction | Series: E-Boy
Part human. Part robot. All hero!   Last week Ethan was just a teenage kid who was lying in hospital with a brain tumour. That was last week.Now, Ethan has the superhuman power to hack any computer system with his mind, and he and Doctor Penny are in a battle with Gemini, the android healer-turned-deadl y assassin.The Robofight Games might be the perfect cover for their mission. Or they might find themselves in even more trouble...Robot vs human. Country vs country.Who will cheat? And who will win? ...Show more
$15.99
AUD
Category: Middle Fiction | Series: Wolf Girl
A wildly exciting adventure series from bestselling author Anh Do. Wolf Girl and her trusty dogs are back for another hackle-raising adventure. On the run from sinister forces, Gwen rushes head-long into danger. With giant snakes, komodo dragons and a whole new wolf pack to contend with, Wolf Girl will need all her cunning... and all her friends.   ...Show more
$34.99
AUD
Category: Middle Fiction | Reading Level: Younger Readers
Lone Annie sees dragons in your future... She sees giants. She sees fire and water. She sees death. Finn's life in the village of Wichant is hard. Only his drawings of the wild coastline, with its dragon-shaped clouds and headlands that look like giants, make him happy. Then the strange housekeeper from a mysterious clifftop mansion sees his talent and buys him for a handful of gold and then reveals to him seven extraordinary paintings. Finn thinks the paintings must be pure fantasy-such amazing scenes and creatures can't be real! He's wrong. Soon he is going to slip through the veil between worlds and plunge into the wonders and perils of The Glimme. ...Show more
$15.99
AUD
Category: Middle Fiction | Series: Star of Deltora
Britta of Del wants nothing less than to be the new Apprentice Trader of the Rosalyn fleet. Family and friends and even the terrible secret of her parentage will not stop her. But how can she succeed when her true identity must surely be guessed by Trader Mab, who knew her father, and the crew of the St ar of Deltora? Relying on no more than her wits and the kind acts of friends she makes along the way, Britta is drawn closer and closer to her terrible destiny. ...Show more